Since its foundation in 2012, CSFF-XI has been known to focus on local short films. However, since 2019, CSFF has expanded its mission to provide new experiences and network with varied filmmakers from both Cambodia and the rest of the world.
For instance, this year, through CSFF, three finalists have been selected by the following festival partners:
1. "Timeless Love", selected to represent Cambodia by Asia-Pacific Youth Micro Movie Festival to be held in Hong Kong (China) from this September 22 to 24;
2. "Ms. Client", selected to represent Cambodia by Asia-Pacific Youth Micro Movie Festival to be held in Hong Kong (China) from this September 22 to 24;
3. "Today for Tomorrow", selected to represent Cambodia, by The Cartoons Underground Festival, to be held in Singapore this October 21 and 22.
"I found it incredible [about this selection] as I still find room to improve in my animation. Yet, with CSFF's support, my film has been selected graciously. Actually, I'd be already happy if the audience enjoys watching my work and learns something from it", gushes Mr. PHET Cha, filmmaker of "Today for Tomorrow".
"CSFF is a true platform for us to express our vision and establish ourselves as filmmakers, inspire us to compete on local scenes and pursue our dreams. Now that my second short film, winning Audience Award from last year, has been accepted by the Hong Kong-based film festival, I feel excited and thankful for CSFF to continuously endeavor to pave the way for local filmmakers like us to earn international fame," praises, in turn, Mr. Ty Tipnimol, aka David Tito, filmmaker of "Ms. Client".
It is noteworthy that, in previous years, CSFF has paved the way for many other finalists to international stages. Of those titles, "Before the Rain" was selected in 2019, by both Busan Arthouse Film Festival (Korea) and Asia for Peace Film Festival (Pakistan); "Because I Love You More" in 2020 by Bangkok Screening Room (Thailand); and 10 finalists from 2021 and 2022, selected early this year, by Makiz'Art collective (France). On a side note, "Lili Flower" directed by our CSFF 2018 champion, was screened in late 2019, within China New Media and Short Film Festival (China).
(Photos by Makiz'Art៖ French audience enjoys "A Father's Wish", a CSFF 2022 finalist)
This proves that CSFF has put in their efforts to promote Cambodian films overseas and as far as it can, especially with its existing network partner: Video4Change, through its dedicated platform, Cinemata.Org. This year's candidates can also enjoy this rare opportunity, through CSFF. Therefore, hurry up your submission by our extended deadline: this August 15th, 11:59 pm.
Like in previous editions, besides fictions, CSFF continues to accept documentaries, music videos and animations, as long as their maximum lengths do not each exceed 30 minutes. In addition, CSFF-XII will continue to prize our local winners with cash awards, funded by Cambodian Children's Fund (CCF), in the following competitive categories:
🏆 Best Cambodian Short Film – $1,000
🏆 First Runner-Up Cambodian Short Film – $500
🏆 Audience Award for Local Short Films – $300
🏆 Best International Short Film – $300 (from submission fees collected from international filmmakers)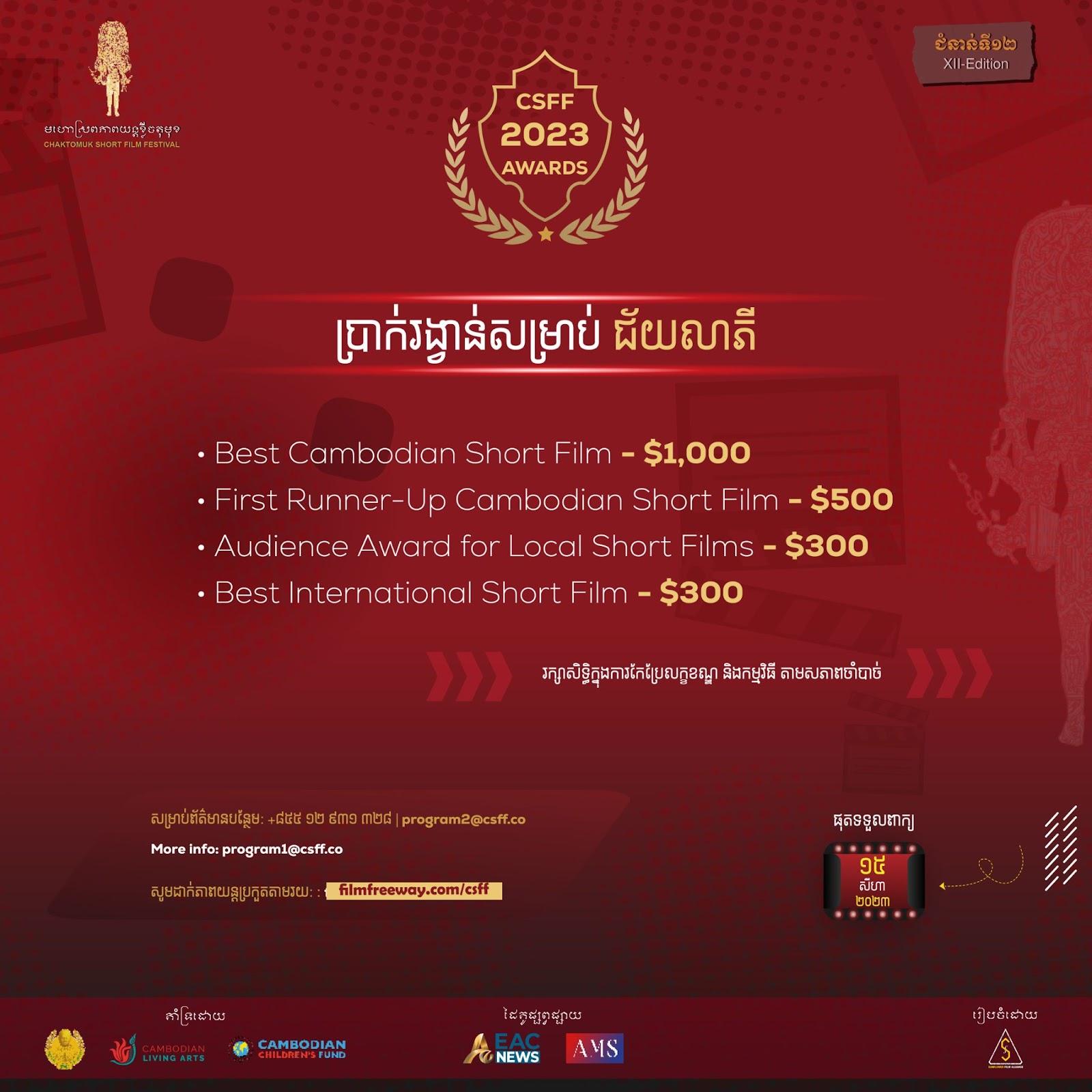 Since its new edition launch, CSFF has been officially supported by Ministry of Culture and Fine Art, funded by Cambodian Living Arts, through "Dam Dos" Grant, Cambodian Children's Fund, and with media partners like Everything About Cambodia (English news) and Apsara Media Services (AMS) (Khmer news).
The festival is also looking for more financial support in order to prepare and produce promotional events and materials to reach out to filmmakers, students and wider public, as well as to support the festival committee to deserve our audience and stakeholders' trust.
If you want to network with other filmmakers in Phnom Penh and connect your story with a large audience, submit your short film now to us through https://filmfreeway.com/CSFF or http://csff.co/submission/.
For more information, please visit our platforms as follows:
About Sunflower Film Alliance
Operated since late 2017, Sunflower Film Alliance (SFA), considered a youth collective under Sunflower Film Organization (SFO), gathers volunteer members, across Cambodia, with film interest and skills, aged between 15 and 40. This organization itself was officially registered with the Ministry of Interior as a non-profit organization on March 13, 2019.
SFA itself has produced and co-produced, since late 2017,"Family and You" omnibus series (2017), "Kon Khnhom" TV show with TVK and a few short films, like "akumu project" and others. Since 2019, SFA has organized "Let's Document Cambodia", training over 200 Cambodian youth from Phnom Penh and various provinces in making short documentaries. Our aim is to promote the understanding about film production to build a more rebust Cambodian film industry, organizing training courses and showcasing their works on social media, cinemas, festivals, including its own flagship Chaktomuk Short Film Festival, as well as its provincial and overseas allies. As such, Cambodian young filmmakers will be better known on the international stage.
For more inquiries, please contact:
Miss VON Lyer
Supervisor of Communications/Designs
HP: +855 69 450 410
Email: com@csff.co
*****
Attached Materials:
Extended Submission Cover: